Tesla just wrapped up its second quarter earnings call, and CEO Elon Musk mentioned that the price of FSD Beta could go up (further) by the end of this year.
Improved frame rate
FSD Beta arguably got better over the years as Tesla trained its neural networks and ditched the old ones. Musk said he will continue to remove old neural networks to improve the frame rate, which is currently 24 fps. Removing the old neural networks would allegedly increase the frame rate up to 36 frames per second.
This should allow for smoother interactions, especially when driving faster. Right now, if you're going 60 mph, you're moving at 88 feet per second. If the car interprets 24 frames per second, it analyzes its surroundings approximately every 3.6 feet.
Increasing the frame rate to 36 fps would reduce this to around 2.4 feet, giving the vehicle smoother reactions to its surroundings.
Musk explains that on the 27th minute of the second quarter earnings call.
FSD beta price increase?
Musk said that as it improves its software feature set, the price will continue to rise. They raised the price to $12,000 of FSD Beta earlier this year from $10,000 months before adding additional testers.
It's hard for some EV consumers to justify more than $12,000 for non-physical features, which is why Tesla offers a subscription program for FSD. Musk didn't say on the earnings call whether the price of the subscription program would also increase, but he said FSD is "ridiculously cheap right now."
"The value of FSD is extremely high and misunderstood by most people," Musk said on the call. "It's basically currently ridiculously cheap, assuming the FSD materializes, which it will."
If Musk thinks FSD's current price of $12,000 is ridiculously cheap, we can assume that FSD will likely get much more expensive over the next 5-10 years, especially as Tesla continues to collect more data on its fleet and to add new functionalities.
The EV automaker plans to push FSD Beta to all owners who purchased or subscribed in North America by the end of this year.
Many owners have asked Tesla to allow the transfer of FSD and Autopilot purchases to future vehicles they purchase. All vehicles come with FSD hardware, and Tesla simply software-locks them, allowing owners to purchase FSD at any time after purchase.
This becomes more pressing for owners upgrading their vehicles.
FSD Beta Stats
Tesla also revealed how many FSD beta testers they currently have. According to their Q2 2022 earnings report, Tesla now has over 100,000 drivers using FSD Beta in North America.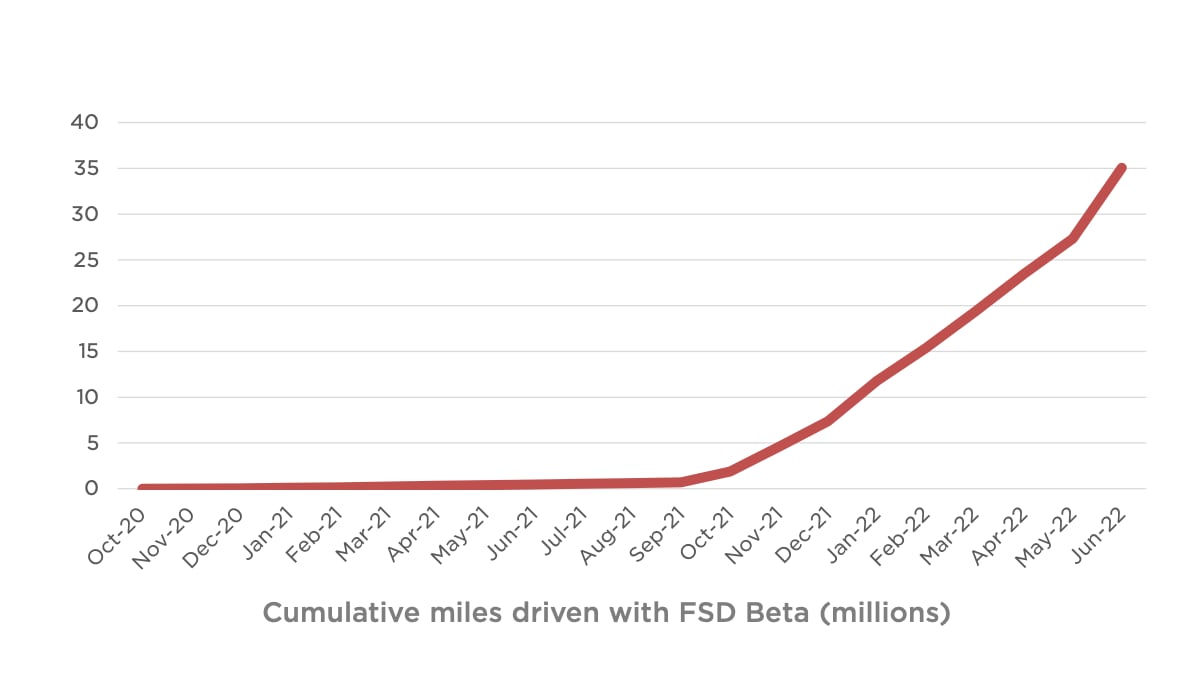 In the investor report, Tesla also showed that there are now more than 35 million miles driven with FSD Beta, more than any other automaker.
Tesla is expected to release FSD Beta 10.13 this week with many improvements.
Call for revenue
You can listen to the full results call below or read our recap of the event.
By Gabe Rodriguez Morrison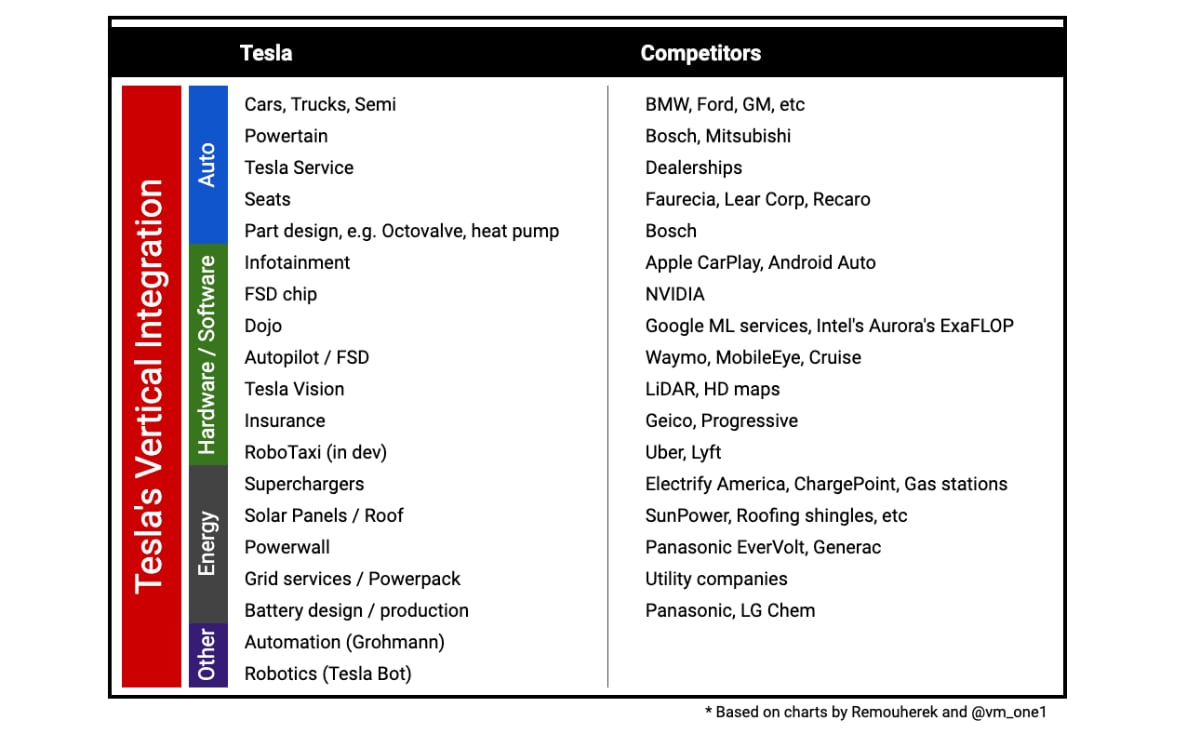 The supply chain issues caused by the pandemic have been particularly difficult for the automotive sector. A global chip shortage amid an onslaught of supply chain hurdles has hurt the entire industry. Tesla's vertical integration strategy has proven to be very advantageous in the face of these supply chain challenges.
Tesla's insistence on vertical integration was a major reason the company struggled to become profitable and reach volume production. Now it has allowed the company to grow rapidly as the wider auto industry stalls amid a supply chain disaster.
The conventional automotive business model has traditionally focused on design and final assembly while largely outsourcing to suppliers. This strategy has made them extremely vulnerable to supply chain disruptions.
In the past, automakers outsourced as much as possible and focused primarily on supply chain management. In the short term, this strategy reduced production costs, but in the long term, traditional automakers lost the ability to adapt, innovate, and advance technology.
Automotive manufacturing has typically relied on third-party suppliers, leading to supply chain contingencies and reliance on outside companies. This business model has long been successful due to the maturity of the internal combustion engine and a lack of need for innovation.
Tesla recognized the stagnant automotive industry supply chain and revolutionized it by adopting a vertical integration strategy.
Tesla is a chain of startups

– Elon Musk
In recent years, Tesla has challenged the conventional business model, reducing supply chain needs and reliance on other companies.
Tesla has vertically integrated many production steps, from battery production to electric powertrain production and self-driving software. According to Tesla CEO Elon Musk, Tesla is a "chain of startups".
This strategy has allowed Tesla to avoid battery shortages, which have prevented traditional automakers from reaching volume production of electric cars. Before mainstream automakers started investing in making electric vehicles, Tesla partnered with Panasonic to build its first gigafactory to produce batteries. Now the gigafactory ensures a reliable supply of batteries.
Lucid Motors, a new electric vehicle automaker, has also adopted a more vertically integrated business model. CEO Peter Rawlinson says this gives them a huge advantage in the race for modern electric vehicle technology.
In an interview, Rawlinson said, "Electric powertrain can't be bought off the shelf at a world-class level, it's not a commodity. It's a technology race and the market doesn't see it yet."
Tesla's in-house software development is perhaps their biggest advantage over competitors. As a company born in Silicon Valley, Tesla has never outsourced its software. Instead, they've developed proprietary self-driving software that's enhanced by collecting data from Tesla's network of more than one million beta testers.
Ford CEO Jim Farley stressed the company's need to move away from the "catalog engineering" business model at a conference earlier this year, saying "the most important thing is that we integrate vertically".
Tesla is potentially going further to vertically integrate its supply chain. In light of soaring lithium prices, Tesla may be considering getting into the lithium mining and refining business. Tesla plans to mine some of its own raw materials for the same reasons they developed their own batteries, produced their own electric motors, and built their own computer chip and software for self-driving.
Tesla's pace of innovation and industry leadership has become evident as the traditional business model of outsourcing components and software to reduce production costs is rapidly becoming obsolete.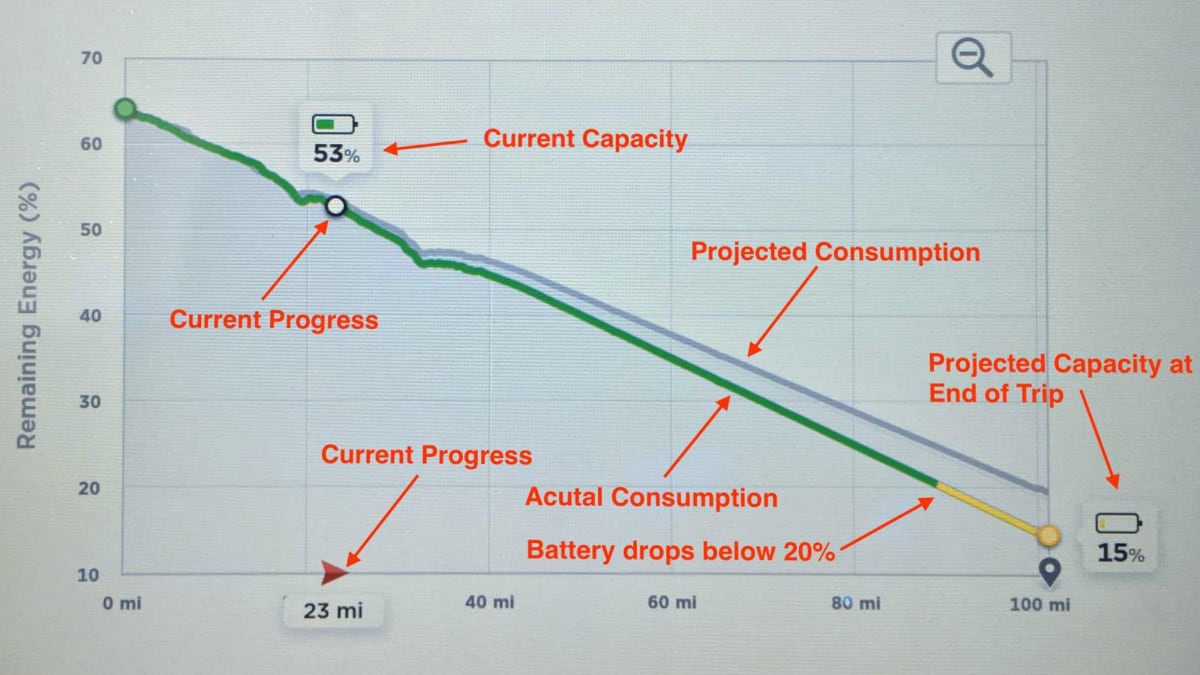 Tesla makes insane improvements to range prediction
Tesla is implementing a number of impressive changes to further increase the range prediction accuracy of its vehicles.
In the 2022.20 update, Tesla added factors such as wind direction and humidity to better estimate vehicle range. Now, the automaker is going one step further to more accurately display range and finish percentage.
Tesla hacker and software engineer @greentheonly took to Twitter to say that "2022.20.7 seems to go into insane detail to improve range predictions. Even tire pressure is taken into account (among many other additional variables just added).
Greentheonly adds that the vehicle software will take into account power loss for phone charging and 12V accessories, battery heating/cooling and air density.
The number of passengers inside the vehicle is now also taken into account, not only to take into account the additional weight, but also to take into account the additional energy that the air conditioning must use to maintain the desired cabin temperature .
Version 2022.16 was released in mid-May and made energy consumption calculation more accurate. Version 2022.16 also introduced automatic Supercharger rerouting when the current Supercharger destination was congested.
Range anxiety is a thing of the past, especially among EV owners who know their vehicles very well. But for new owners, it's one more thing.
These new improvements implemented by Tesla in version 2022.20.7 are very welcome. It is crucial to have the most accurate information to predict the percentage of arrival at destination, especially when charging is not easily accessible and for car journeys.
It will be interesting to watch and see how these changes and scope considerations play out in real world scenarios. Although these vast improvements will hopefully increase lineup transparency across Tesla's entire fleet.