Can a foodie find photographic ambrosia with a street savvy MILC? Scott Baker says "yes"!
Photographing food is a true delight when you can capture its freshness and taste. It is not an easy task, however. Over the past few weeks, I have taken a variety of food images with the Fujifilm X-E1 camera and a variety of Fujinon XF lenses, all available from Adorama, and this has become my system of choice for photography. food photography. Here's why.
Appetizing apricots in a dispenser. Equipment: Fujifilm X-E1 with Fuji XF 35mm f / 1.4 lens. Exposure: ISO 200, f / 3.6, 1 / 340th of a second.
My new favorite camera for photographing food is the Fujifilm X-E1, a very light interchangeable lens compact mirrorless camera with a 16 MP organic sensor. Fujifilm has built an impressive lens system in less than two years. As of September 2013, they had 9 XF lenses, and the Fujinon lens roadmap for the next 12 months shows a total of 10 XF lenses manufactured by Fuji. Each of these lenses is built to an extremely high construction standard. The lenses are constructed from aluminum in most cases and are very light but have very tight tolerances and are very well cushioned and focus easily. Adorama offers the full range of Fujifilm cameras, lenses and accessories.
I shot this culinary series with the Fujinon 18-55m f / 2.8-4 zoom lens as well as the Fujinon 60mm F / 2.4 lens and the Fuji XF 35mm f / 1.4 lens. The lenses are extremely well constructed and have a Fujinon Super EBC lens coating. The color rendering and contrast of these lenses are on par with the best Leica Prime lenses.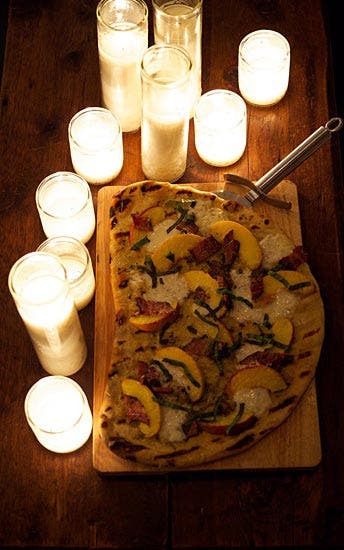 Pizza by candlelight. Fuji's excellent high ISO image quality in low light allows me to shoot without fear. Equipment: Fujfilm X-E1 with Fuji XF-18-55mm f / 2.8-4 LM OIS lens. Exposure: ISO 1600, f / 2.8, 1 / 20th of a second.
I especially enjoyed shooting with the Fujinon 35mm f / 1.4 lens. This lens covers the equivalent of a 50mm field of view, and with its rapid aperture, it has extraordinary low-light capabilities. It's sharp wide open and incredibly sharp stopped just 1-2 stops.
When I take photos of food, I look for interesting ambient lighting, especially candle light, some sunlight, or light from a window. Food prepared by a chef and served immediately is at its peak. You can get amazing images if you use natural light, especially if it is enhanced by candle light (the more candles the better!). Using the Fujifilm X-E1, with its exceptional low light capabilities, in tandem with the 35mm f / 1.4, I was able to comfortably capture interesting images with minimal quality loss at higher ISO settings. I tend to shoot at ISO 400-800 inside a restaurant and ISO 200 outside, and I go higher if that's particularly the case. The wide-open 35mm f / 1.4 is especially wonderful for this type of shooting because it captures the subtle sharpness so well.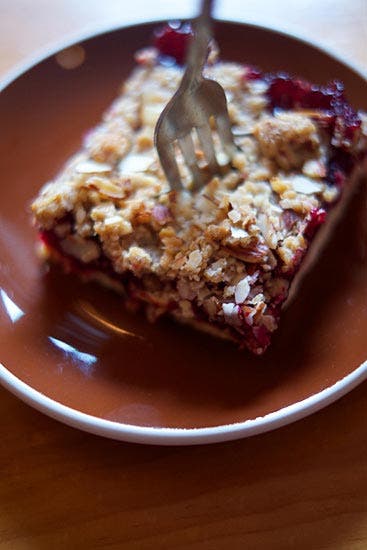 Put a fork in it, this pie is ready for its close-up. Equipment: Fujfilm X-E1 with Fujinon 35mm f / 1.4 lens. Exposure: ISO 400, f / 1.4, 1 / 60th of a second.
The Fujifilm XE-1 camera is very light and easy to use, yet it offers truly stunning image quality. Image quality in food photography is essential. Rendering food, especially up close, is essential, and if you enjoy shooting wide open at f / 1.4 or f / 2.4 on the other lenses, it is essential that the Fuji XE-1 and the Fujinon lens are capable. to focus and maintain critical acuity. I am delighted to say that all three goals excelled in this key task. The shot of the cranberry pie, above, was a challenge, given that the key area of ​​focus is in the center and only a small area is in critical focus. The sharpness is really quite impressive. This shot was taken by hand, which also makes the results even more pleasing.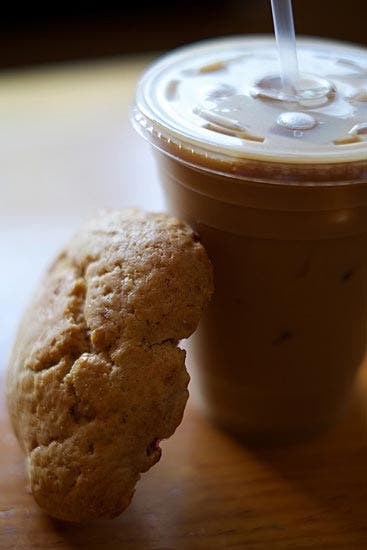 Cool shot of iced coffee. Equipment: Fujfilm X-E1 with Fujinon 35mm f / 1.4 lens. Exposure: ISO 200, f / 3.6, 1 / 200th of a second.
When I photograph food with the Fujifilm XE-1, I use the Auto WB function. I am using a calibrated 30 inch Apple monitor and Aperture 3.0 as software to edit and manage my RAW images.
The Fuji XE-1 camera is made of aluminum alloy, has a very sturdy feel and extremely high build quality. Unlike many mirrorless and 4/3 camera lines, Fujifilm launched its MILC line by first introducing high-end cameras for professional shooters as well as prosumers who are willing to spend more on a camera. best overall quality. (Fujifilm recently introduced a few MILCs designed for novice photographers. The sensor and lenses are a very formidable system.
The days of lugging around 1-2 heavy pro DSLR cameras with a bag full of lenses are quickly fading away. The most critical aspect that photographers look for are extremely high image quality and a robust, well-built camera system. All lenses have an adjustable shutter ring, and the X-Pro 1 and X-E1 offer shutter speed dials and an exposure compensation dial built into the edge of the camera, making quick and intuitive settings. The XE-1 doesn't have the optical viewfinder of the X Pro-1, but I found it very easy to compose and shoot with its electronic viewfinder.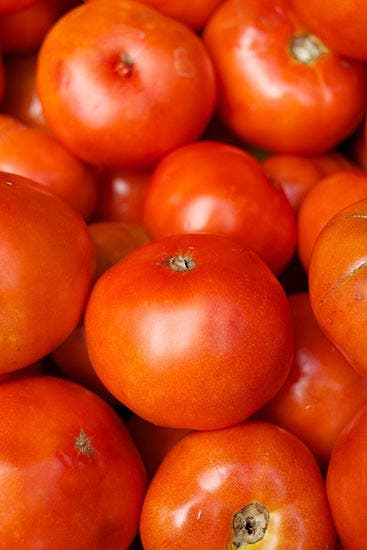 I say tomatoes: Equipment: Fujfilm X-E1 with Fujinon 35mm f / 1.4 lens. Exposure: ISO 200, f / 3.6, 1 / 340th of a second.
I shot with three lenses: the Fujinon 35mm f / 1.4 (a 50mm equivalent) the Fujinon 18-55mm f / 2.8-4 zoom and the Fujinon 60mm f / 2.4 which is a (90mm equivalent) The zoom was fine to shoot with and had the added benefit of having Fuji's optical image stabilization built-in. This adds about three stops to the getting started capabilities of the system. The lens allows a fully automatic program mode when you activate the A on the lens and the A on the XE-1 body. I prefer to shoot food in aperture priority mode, however, as I like to control the depth of field and use the quick lens settings combined with the higher ISO settings.
The Fujinon 60mm lens (90mm equivalent) is also very sharp. I found it to be a great lens not only for food but also for portraits. The 35mm lens, however, was my favorite for food. It produces a pleasant bokeh and a very shallow depth of field at the widest aperture. This is especially useful when photographing food up close, as it allows you to focus only on a key element.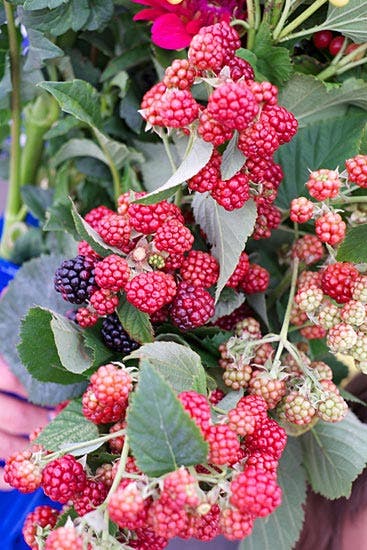 Juicy raspberries on the vine. Equipment: Fujfilm X-E1 with Fujinon 35mm f / 1.4 lens. Exposure: ISO 200, f / 3.6, 1/40 of a second.
In the past, it took elaborate staging and lighting, as well as a stylist, to create great food photos. Strobes and other elaborate handles and tripods or camera mounts were also prerequisites. With the Fujifilm X-E1 or its big brother the Fujifilm X-Pro 1, these are not necessary to get great food images. Fuji is positioned as a Vialbe alternative to pro SLRs. A professional photographer looks for spectacular image quality and a simple camera that makes taking pictures a pleasure. The Fujifilm X-E1 keeps its promises!
Visit Scott W. Baker's food photographs and more on his website, www.scottwbaker.com