At the start of the year, we will be moving our weekly mystery photo to the Charleston City Paper and post it every Monday in our morning newsletter. Each day of the week, the City Paper publishes a summary of recent news. Each afternoon there is a specialist newsletter on a range of issues from food (Tuesday) and music (Thursday) to the arts (Monday) and opinion (weekends).
Click here

register for

City Paper Newsletters

to stay in touch with what's going on around town.
Our previous mystery photo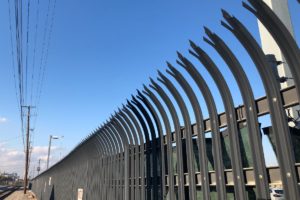 Thanks to all the mysterious guessers through the years. You can still find a weekly mystery in Statehouse Report and we'll be starting one in the City Paper on January 1. Last week's mystery, "Pointy," showed the sharp security fence along the SC State Ports Authority property on Washington and Charlotte streets. .
Congratulations to those who understood it or knew where it is: Bill Segars of Hartsville; Christel newton of North Charleston; Kirk zerangue and David Lupo, both of Mount Pleasant; Georges graf from Palmyra, Virginia; Jay altman Columbia, Jim mcmahan and Craig bennett, both of Charleston; and Kristina wheeler by West Ashley.
Peel explained that the fence was called a "palisade" fence, "also called a" lance "fence for its pencil-point shaped blades which provide excellent surveillance visibility and are very resistant to forced entry with Scissors. This is a popular type of perimeter fence where security and vandalism resistance is required. This particular design features a curvature in the blades that points outward, making the fence more secure. all the more difficult to scale.