Representatives from more than 60 countries around the world gathered at the iconic Hangar-7 venue in Salzburg, Austria, to compete in a world paper plane throwing championship. Sínann Fetherston makes us travel.
At the invitation of Red Bull, I was invited to attend the Paper Wings Global Final with two other Irish media representatives: social media influencer Ged, a 24-year-old video content professional from Belfast, and rising star Emer Kelly, a 23-year-old TikTok and Instagram content creator from Wicklow.
From start (a party bus trip to the opening ceremony at Stadion Salzburg) to finish (a dance-filled celebration at Salzburg Airport), our time in Austria was something to behold.
What at first looked like a schoolyard game quickly turned into a mind-blowing display of quirky and creative skill, taken to new heights (there will be plenty of puns, buckle up) by a group of people from all over the world.
It turns out that a sheet of A4 paper can have the audience clapping, screaming, gasping, laughing and, at times, diving for cover.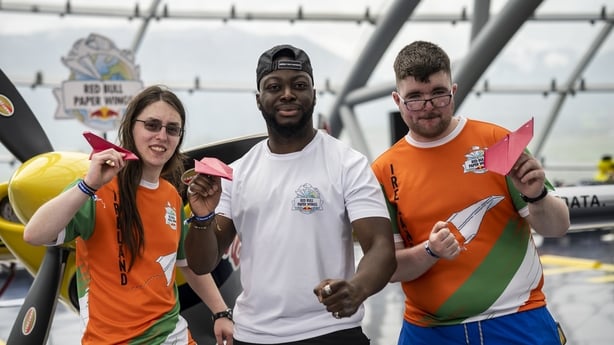 National finalists competing in the sixth World Final were the best from their country, with over 61,000 hopefuls having competed in over 500 Qualiflyer events in distance and airtime and, in the case of aerobatics, viral videos .
The World Final itself took place over two days within the stunning glass walls and soaring ceiling of Hangar-7, a breathtaking venue that houses the collection of historic aircraft and Formula 1 racing cars of Red Bull founder Dietrich Mateschitz.
Ireland team
Waving the Irish flag were three students: American-born CIT student Brian Grant, who competed remotely; Jamie Kinsella, from Wexford, of CIT, who took on Airtime; and DCU's Dubliner Bill Oshafi who cartwheeled through the aerobatics.
As the competition intensified, so did our environment (air conditioning is a big no-no when it comes to a paper event), and while some pilots jammed their landings, d others crashed and burned.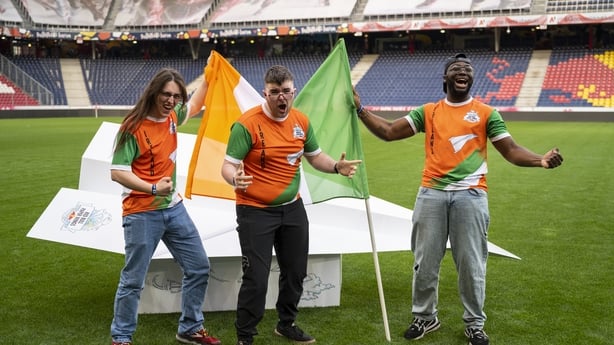 Unfortunately, Friday the 13th turned out to be an unlucky day for the Irish team as Grant and Kinsella were eliminated from the competition early on.
Despite the loss, Kinsella, 20, insisted the event was a great way to meet people from all over the world:
"It was absolutely amazing, so exciting to meet all these new people and make new friends. I will definitely be in touch with them in the future."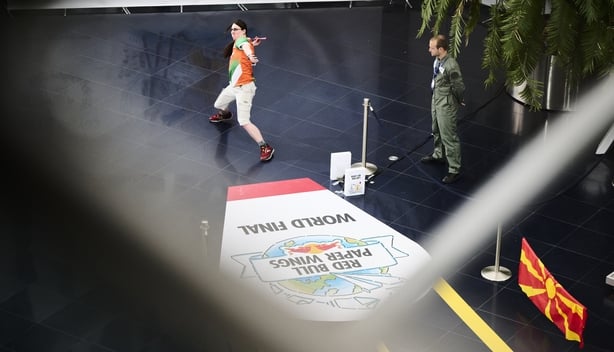 Similarly, Grant, 21, said the social aspect of the competition was as exciting as the event itself:
"One of the things I would like to do with my life is travel the world and taste food everywhere, so it was cool to meet new people here and learn about new cultures."
On Saturday morning, Dublin man Bill Oshafi did the country proud by qualifying for the aerobatic finals. He did it with an energetic performance of cartwheels, push-ups, bat gliders and a balloon-bursting dart plane.
"My nerves were pretty high a few days before we were due to leave because I was like 'what if I'm not good enough.' on YouTube that just makes paper airplanes," he explained.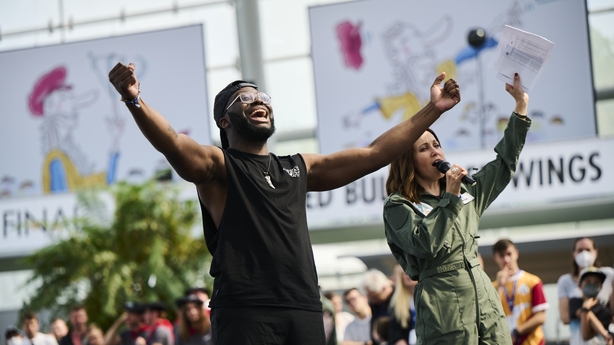 That day, Oshafi says he felt like he had blinders on and really enjoyed his time on stage as nerves melted.
Speaking on his appearance in the final, the DCU student said he was delighted to represent Ireland on the world stage.
"It's really cool, honestly, I milked it a lot," he laughed. "I am a paper airplane professional, and the best in Ireland at it."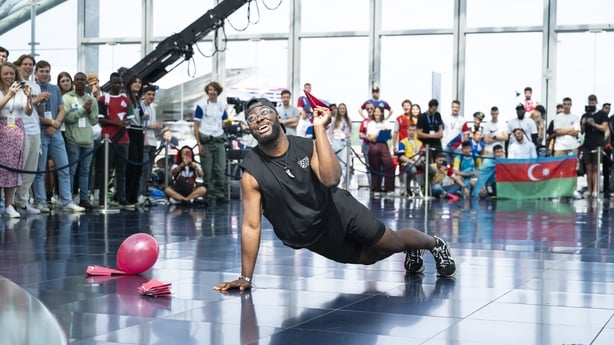 The 2022 World Final
Distance
According to the regulations, all Distance and Airtime pilots had to make their aircraft from identical materials: namely a single standardized sheet of A4 paper provided by the organizers.
Their task was to create the most aerodynamic shape possible by bending only – no cutting, tearing, gluing, stapling or other such modifications allowed.
In the end, it was a worthy winner who presented himself. Serbian Lazar Krstić reached 61.11 m with his paper plane thanks to six months of intensive training, during which he gained 10 kg and studied the intricacies of javelin throwing.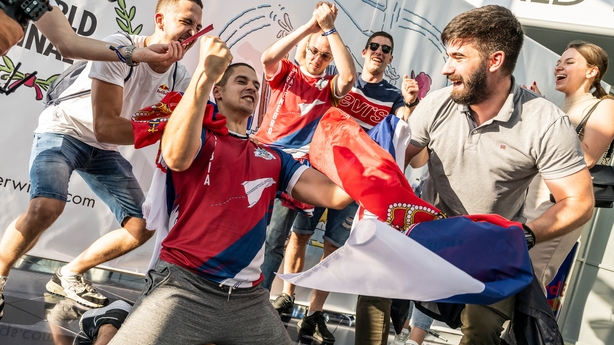 Krstić has already participated in the 2019 competition with a second place of 52.28m. Obviously coming so close became a motivating factor as he blasted all the other competitors out of the sky, throwing a first throw of 57.13m that no one could top, then – even though he had already won – a second throw even further. 61.11m.
"My strategy to win was to fold, if possible, the perfect paper plane, but I kind of think that's impossible," Krstić explained. "You have to be very precise with each fold. In addition, I knew that in Salzburg, the height [of the venue] wasn't that good, so I designed my model to be lower so I could cast even farther."
"I really wanted this win," he said in his statement. "I worked hard for it and in the end it paid off. It's been a great experience, I really like it. I'm competitive, but I also really like being around other people, and I was able to meet even more people this time. I'm so happy. You'll see me again!"
Airtime
In the Airtime category, pilots launched their planes into the vaulted glass ceiling of the hangar, aiming for the longest time between takeoff and landing.
Competing in the Super Final, Pakistan's Rana Muhammad Usman Saeed ended a 10-year wait for redemption by winning with a time of 14.86 seconds. Additionally, in pre-elimination, he had clocked 16.39 seconds – a new Paper Wings record.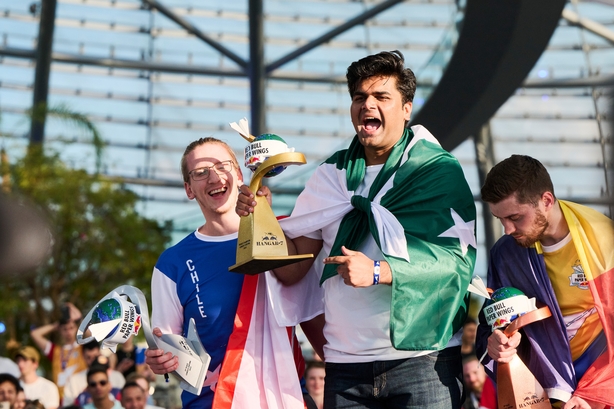 "I was here in 2012 but I couldn't get good results that year," Saeed explained. "Ten years later, I'm back and I'm world champion."
"You have to learn the aerodynamics of the plane," he added. "If you learn that, you have to get out there and see what kind of conditions you have there. You'll adjust your plane to those conditions."
Aerial acrobatics
With just seconds to set up their often elaborate performances, the aerobatic pilots had 60 seconds to dazzle an impressive jury of record-breaking rider Dario Costa, two-time Olympic gold medalist in Big Air Snowboarding, Anna Gasser and BMX legend. Senad Grosic.
We need your consent to load this content from comcast playerWe use comcast-player to manage additional content which may place cookies on your device and collect data about your activity. Please check their details and accept them to load the content.Manage preferences
Basing a score on creativity, overall flight performance and technical skill may seem simple, but this aerobatic performance was incredibly unique.
While some displayed feats of acrobatic engineering and athleticism, others relied on comedy and confetti.
After pre-elimination, Grosic explained that the judges agreed to be a little nicer to the contestants given the diversity of performances, agreeing not to drop below 5 on their scorecards for anyone who shows up. .
"The judging criteria are really tough, you have 1-10 but let's say it's 5-10. It's crazy, I'm more for the show, and the overall expression, and the social impact – c That's the criteria I'm looking for – but it's so hard, they're all amazing people."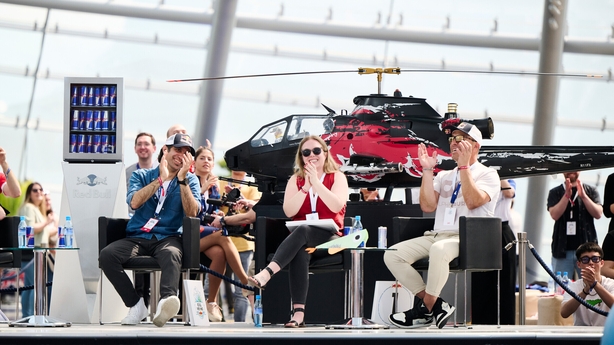 Luckily for the judges, an outright winner emerged in this unusual event in the form of Seunghoon Lee from South Korea.
The science teacher hovered over a squid games inspired performance which earned him 46 points.
Dressed in a formal black tuxedo, he performed like a magician, launching a fleet of planes into breathtaking performances – twirling, boomeranging and even flapping his wings.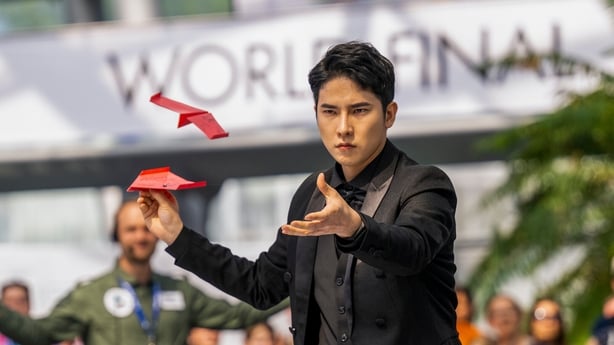 Her pre-elimination performance was exceptional, but it was her last performance that got the audience's applause the most.
Following his victory, he got down on one knee and offered his girlfriend a yellow plane, which she happily accepted.
"I teach kids about science, paper airplanes and aerodynamics," Lee explained. "I really love paper airplanes, I've been studying for about seven years, so it was my dream come true."
"I brought my girlfriend, without telling her that I would make the proposal at the event. I did not know if I had entered the Super Final, so after passing the Super Final with 30 points, I was confident that I could get one of those three trophies, so this morning I told him that if I got a trophy, I would propose. And it really happened. I did it in front of the whole world and it was truly amazing.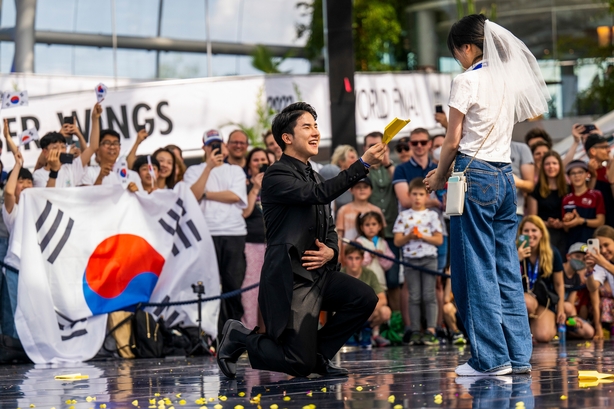 Winners in each category were taken on a unique journey through the skies in a variety of aircraft, including a seaplane that landed on a lake in Austria – something that's only supposed to happen 15 times a year, and only by Red Bull.